Target Audience: Rainbow User

Related Offers: Essential, Business, Enterprise

You can add several people to your network to grow your community in Rainbow. People in your contacts are able to see your presence and your profile (vCard).
All member of your network will also be directly displayed in your "Contacts" tab.
NOTE:
An invitation sent to a Rainbow user, member of your company, will be auto-accepted without any confirmation.
How to add someone to my contacts?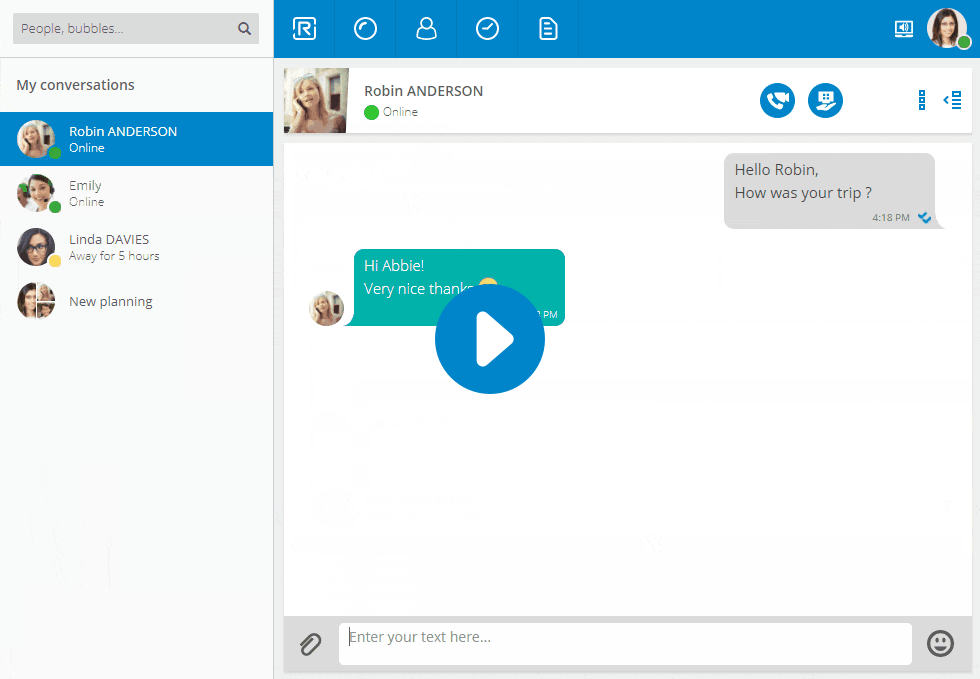 Click on the icon "Contacts" in the top banner of your screen.
In this tab, click on the "Invite" button. 
To invite a new Rainbow user, you may write their email address in the search bar (they will receive an invitation by email). You can invite several users by writing their email address separated by a comma.
To invite an existing Rainbow user, you can find them by using the search bar (they will receive this invitation both in Rainbow and by email).
Once these users have accepted your invitation, they will be displayed on your "Contacts" tab and you will be notified by a pop-up spot.
NOTE:
You are also able to add to your network an existing Rainbow user directly from a conversation you have with them: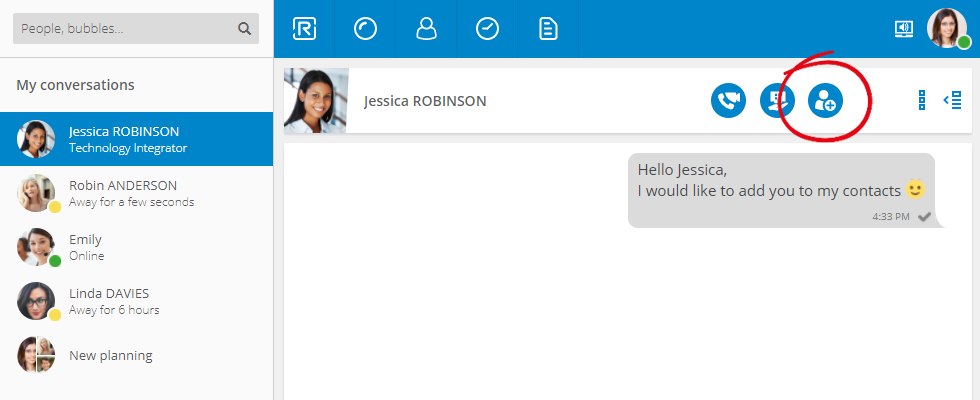 How to add someone to my contacts?

Go to the "Contacts" page by clicking on the icon located in the lower banner of your screen.  
Select the tab "All" in the top right corner to display contacts saved on your device. You will probably have to provide the rights to access your contacts to Rainbow.
This tab gathers your local contacts and your Rainbow contacts.

You can invite your local contacts to join Rainbow with the tab "Invite a contact."
Invitations can be sent by email or phone number depending on the information available for your contact.



Type the email or the phone number of your contact and click on "Invite."
To check that your invitation has been sent, go to the "Invitations" tab to find the email of your contact in the list displayed.

NOTE:
You are also able to add an existing Rainbow user to your network directly from a conversation you have with them:
How to add someone to my contacts?

Go to the "Contacts" page by clicking on the icon located in the lower banner of your screen.
Select the tab "INVITATIONS" in the top right corner and click on the blue icon located in the lower right corner of your screen.

Select the option "Invite by email or phone number,"
Type your contact email address before clicking on "INVITE."

 

A pop-up message "Invitation successfully sent" appears at the bottom of your screen to let you know that your invitation has been sent. 
To check your action, read the list of email address listed under the tab "INVITATIONS."

NOTE:
You are also able to add an existing Rainbow user your network directly from a conversation you have with them: