Target Audience: Rainbow User

Related Offers: Enterprise

You can find your colleagues—who are members of the same Office 365 company—with the Rainbow search bar. This feature enables you to find your colleagues information and, therefore, invite them to join you in Rainbow.
NOTE:
A Microsoft Azure Active Directory synchronization must be set up by your Company administrator to use this feature.
How to search for my colleague?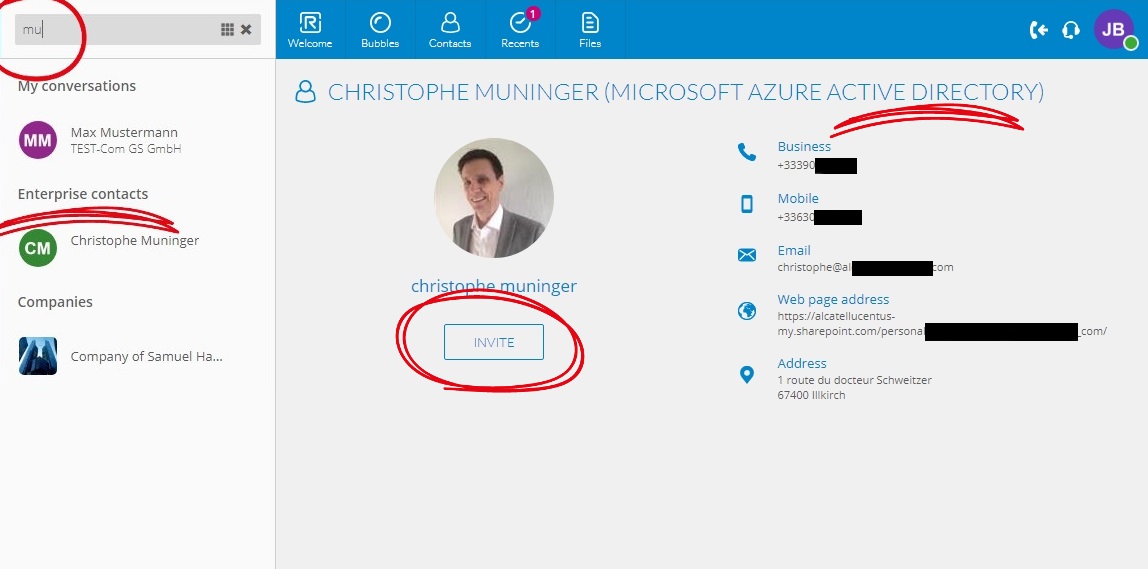 Use the search bar in the top left corner of Rainbow to type your colleague name.
Results are sorted by category. Your Enterprise contacts are coming from a Microsoft Azure Active Directory.
You can see their personal information and invite them to create their Rainbow account.
NOTE:
Your Office 365 colleagues—who already have a Rainbow account—are not displayed as an "Enterprise contacts," but only as a Rainbow contact.
How to search for my colleague?

From the Home page, click on the icon "Contacts" at the bottom of your screen. 
You arrive at your contact page. Choose "All" at the top right of your screen to display all contacts saved on your device. You probably have to provide the rights to access to your Rainbow contacts.

This tab gathers your local contacts with your Rainbow contacts.
You can invite your local contacts to join Rainbow with "Invite."
Invitations can be sent by email or text messages depending on your contact available information.
Invitations sent by email do not require any confirmation whereas invitations sent by text message need to be validated through your application. 

 

NOTE:
You are also able to add an existing Rainbow user to your network directly from a conversation you are having with them:
How to search for my colleague?

From the Home page, click on the icon "Contacts" at the bottom of your screen. 
You arrive at your contact page. Choose "All" at the top right of your screen to display all contacts saved on your device. You probably have to provide specific information to access to your Rainbow contacts.

This tab gathers your local contacts with your Rainbow contacts.
You can invite your local contacts to join Rainbow with "Invite."
Invitations can be sent by email or text messages depending on your contact available information.
Invitations sent by email do not require any confirmation whereas invitations sent by text message need to be validated through your application. 

 

NOTE:
You are also able to add an existing Rainbow user to your network directly from a conversation you are having with them: