Target Audience: Rainbow User

Related Offers: Essential, Business, Enterprise

When you hold a conference with many Rainbow users, you may display the Webcam image of every one of your contacts. 
NOTE:
Your Rainbow screen allows you to simultaneously display at most 5 videos.
How to Display Multiple Videos in a Gallery?
To display multiple videos:
Go to your "Bubbles" page by clicking on the icon in the top banner of your screen,
Select one of your Bubbles.
Launch a conference by clicking on the appropriate icon (Learn more here)
Turn your camera on and ask your contacts to do the same.
In the right panel, you may find the name of the Bubble organizer, the list of participants and the ongoing activity (...is speaking) right below the Bubble's avatar.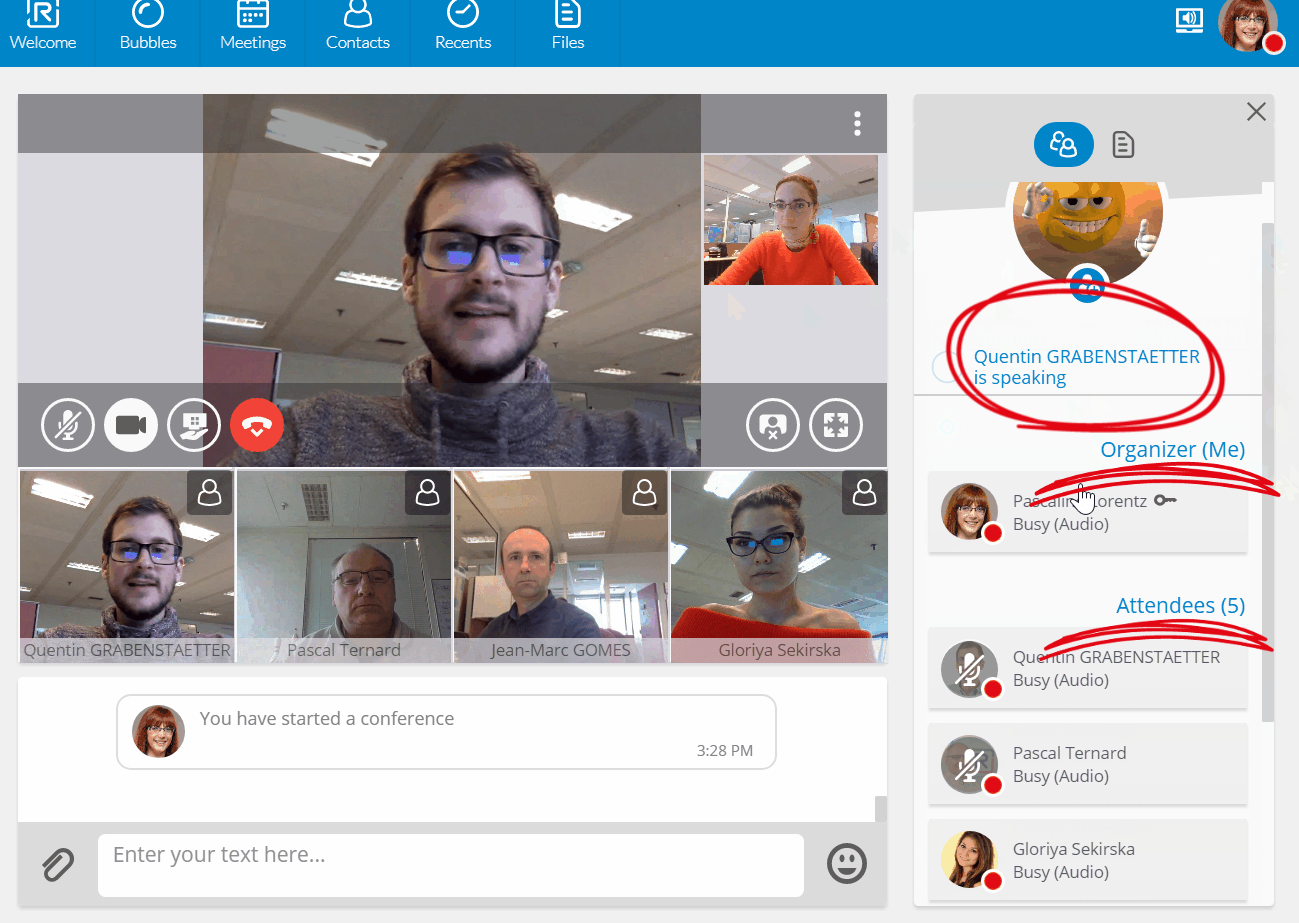 What is Displayed?
The usual icons of a conference ("Mute your microphone," "Add media," "Share your screen or application" and "End the call") are displayed right below the avatar of the main participant. Learn more here. 
The small video on the top right corner of the Gallery is the Bubble organizer's video.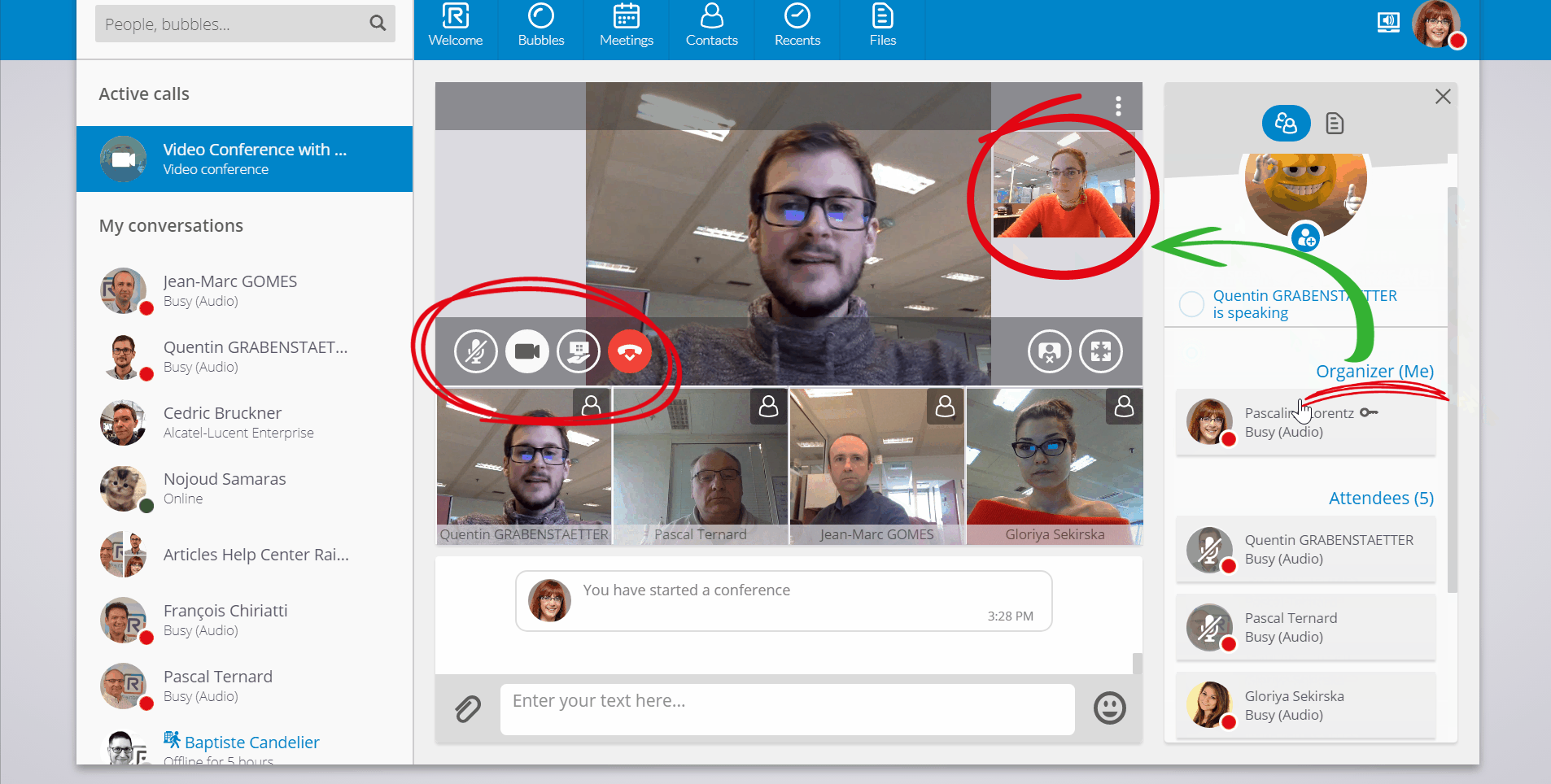 How to Change the Main Video?
To change the main video:
Go to the video of the contact you wish to display as the main video,
Click to make the white squared icon appear,
Click on the icon.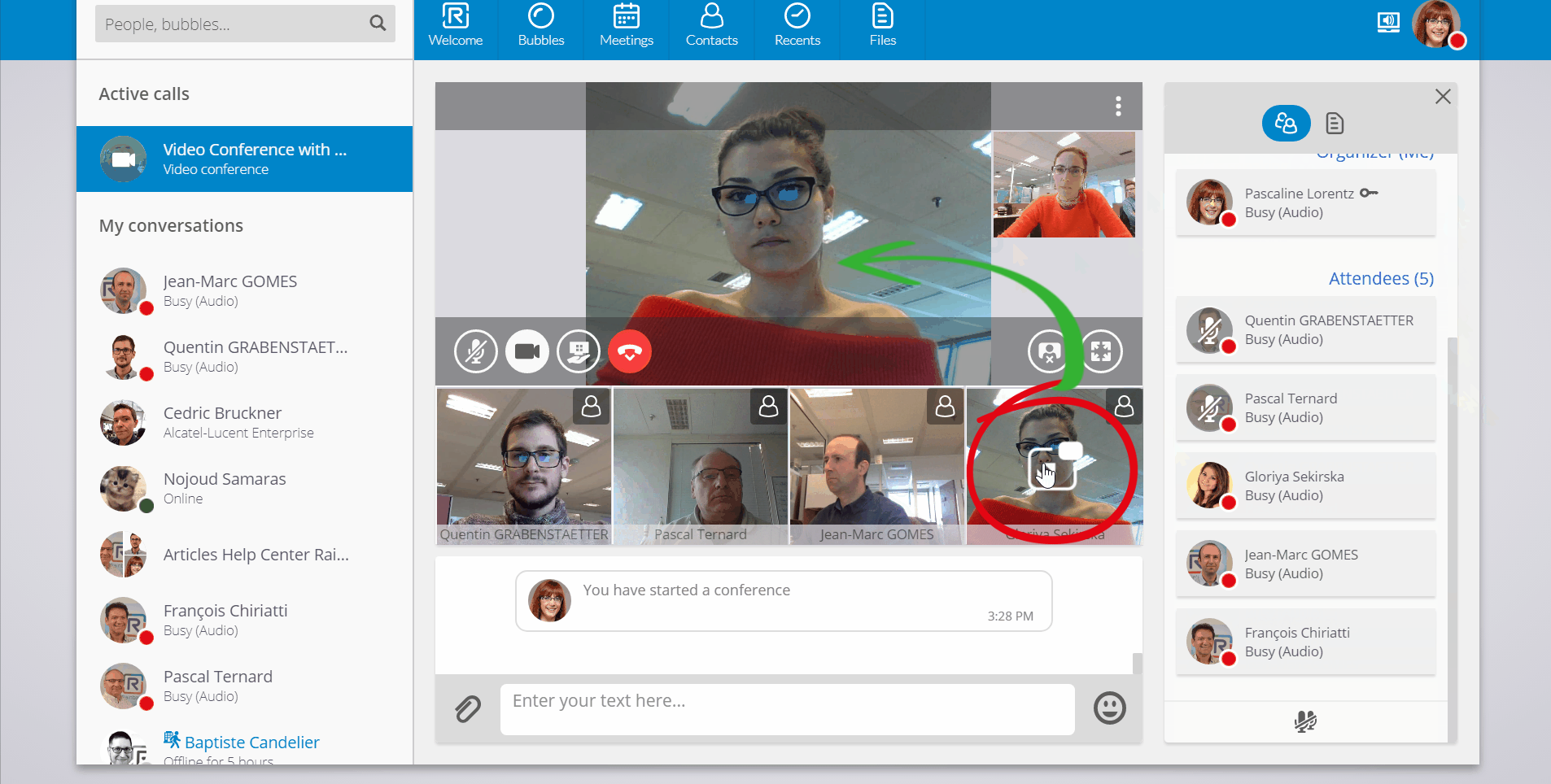 How to Go Full-Screen Mode?
To go full-screen mode:
Select the full-screen icon located on the right side of your main contact video, and
Click.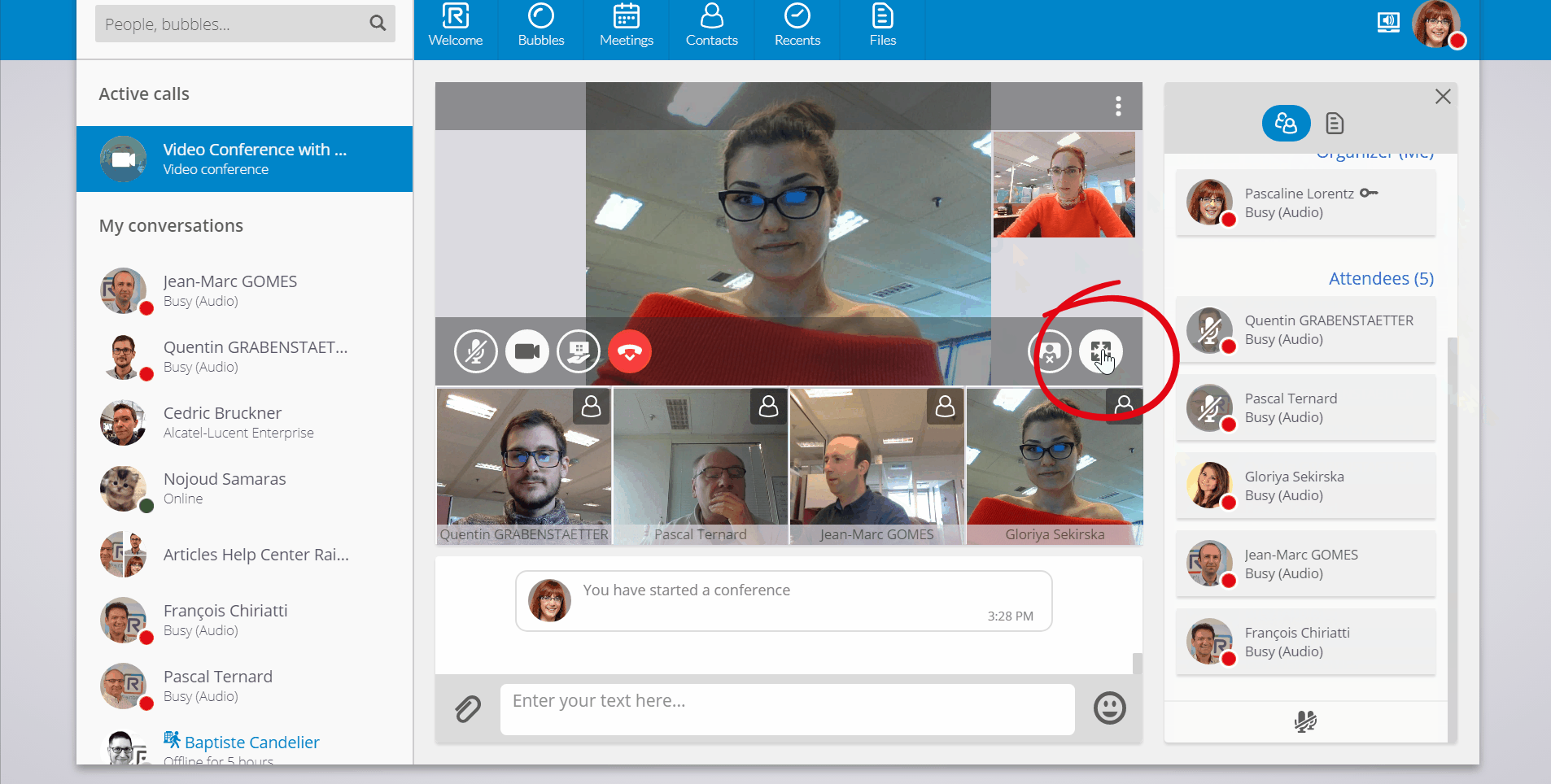 How to Hide the Video of One of the Participants?
To hide the video of one of the participants: 
Go to this contact video picture,
Select the greyish icon in the top right corner,
Click on "Hide video."
NOTE:
While this contact's video disappears from your screen, another contact's video may appear if your conference includes more than 5 people.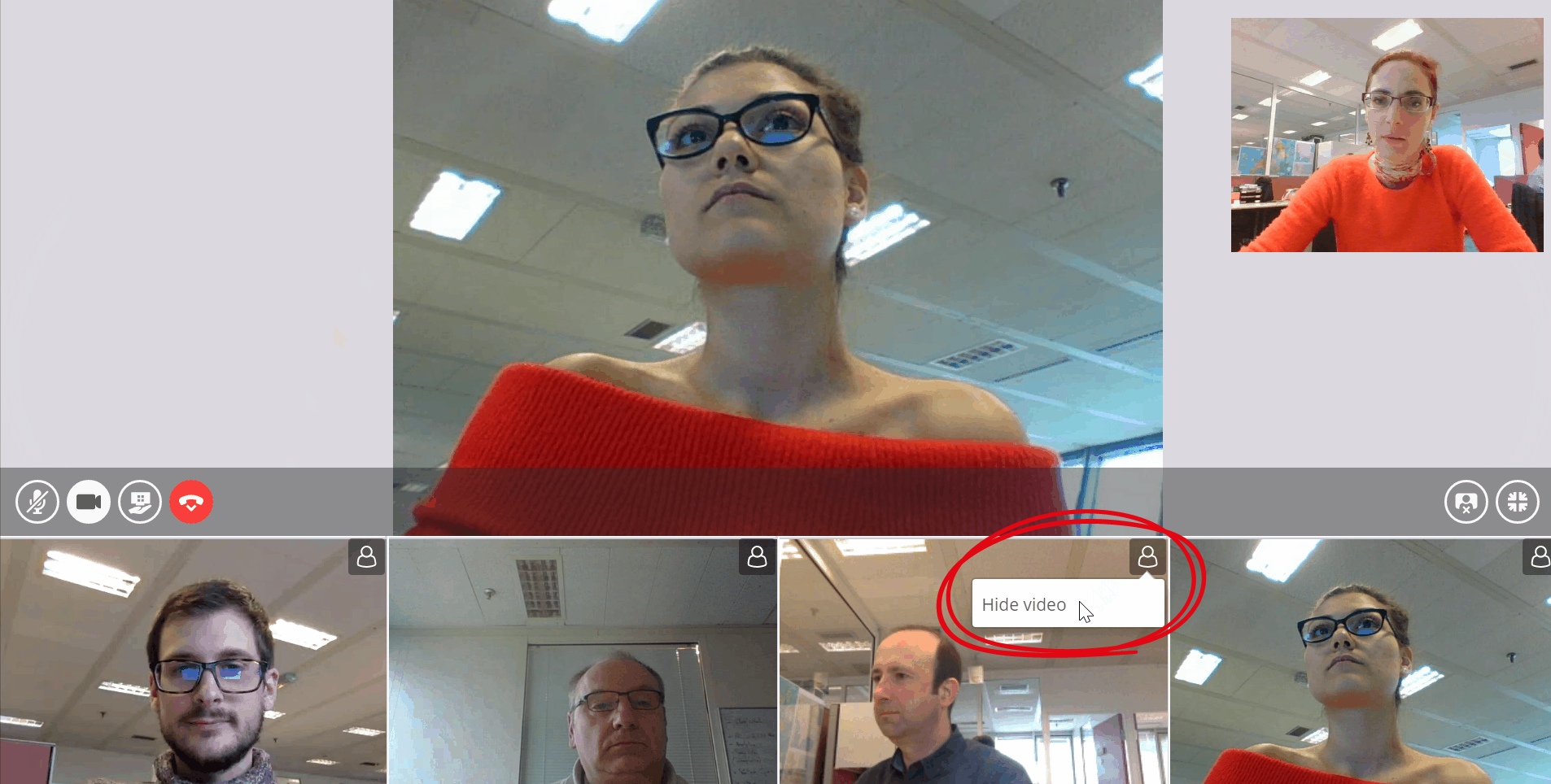 How to Display the Video of a Hidden Contact?
To display the video of a hidden contact: 
Click on the greyish icon located in the top right corner of one of your contacts' video picture.
If one of your contacts is missing from your gallery, their name is listed (e. g. "François Chiriatti").
NOTE:
The contact where you clicked is automatically hidden to give their space to the hidden contact revealed.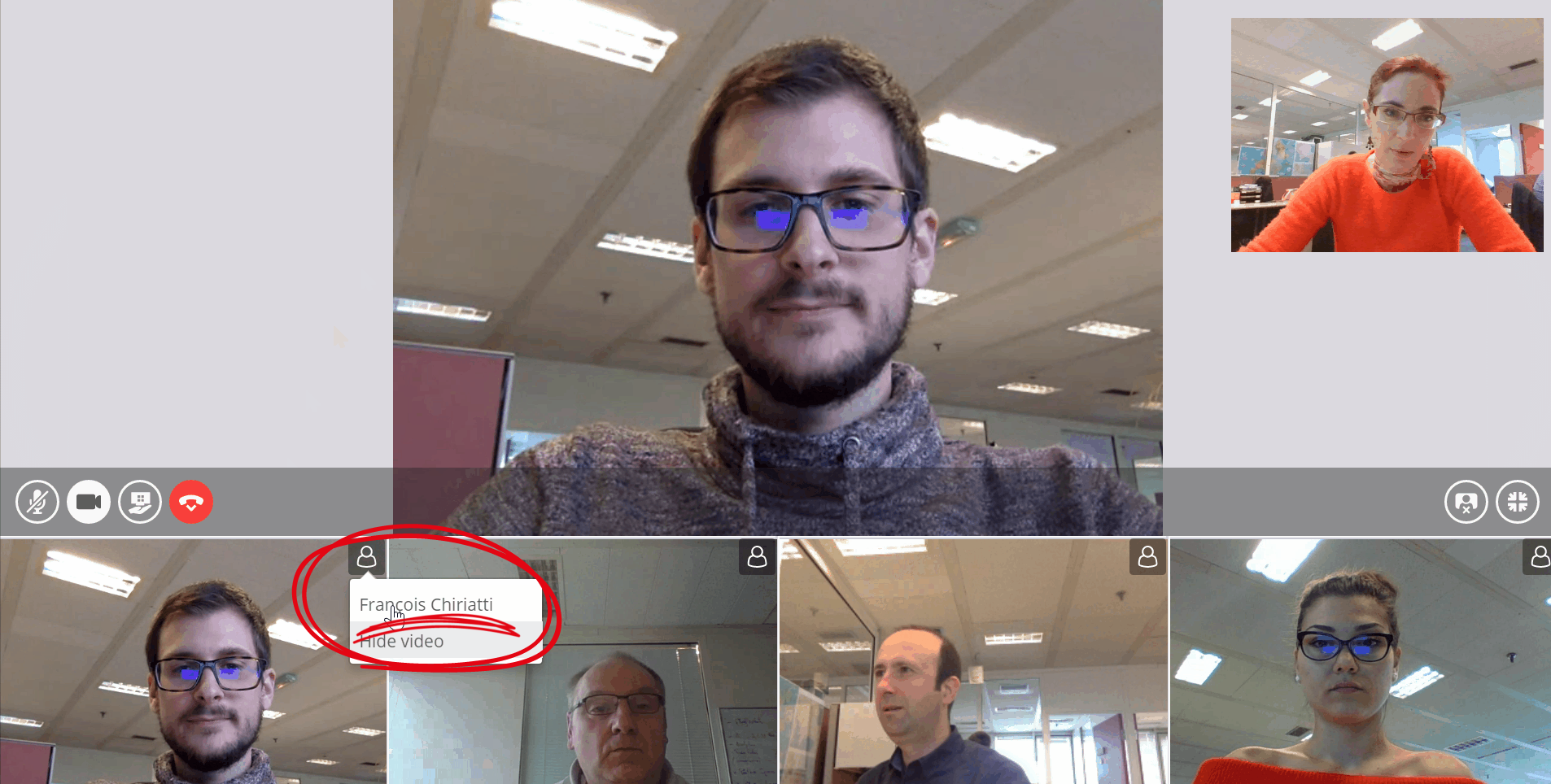 NOTE:
And don't forget to meet our Customer Care Team!