Target Audience: Rainbow User


Related Offers:  Essential , Business , Enterprise
Rainbow's search bar allows you to make your information search easier and more fluid through the application. You can search for people as messages.
Are you looking for someone?
All you have to do is insert the first letters of his first or last name in the search bar.
The search is carried out in the following order:
Your conversations: all Rainbow users with whom you have exchanged information, messages, documents or conducted an audio/video conference and so on.
Your contacts : all users you added to join your Rainbow' network.
Rainbow's directory : this is all Rainbow users outside your network and company.
Note: If the person you are looking for is from the same company as you, they will be displayed first.
A more relevant search can be performed by filtering your request according to 3 criteria:
People & conversations
The members of my company
The other companies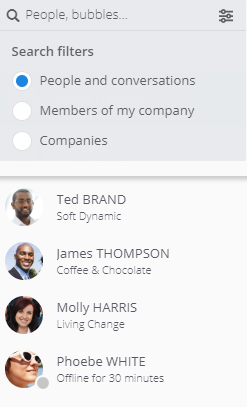 Can't find the person you're looking for?
Send her an invitation via her email address by clicking on "INVITE CONTACTS" to join Rainbow.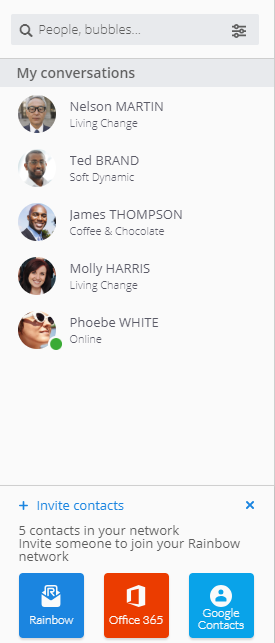 Are you looking for information?
Type one or two words in your search bar and then simply click on "Search text for".  Rainbow will display the Bubbles or conversations in which these words appear and then direct you directly to the message.
There is another possibility to recover information lost in a Bubble with several participants:
Enter the relevant bubble
Click on the three points next to the title of your bubble
Select "search for a message"
Type your text