We're coming to the end! Keep it up and you'll quickly become a Rainbow expert!
There are many ways to communicate. So far we've studied Conversations and Bubbles. But Rainbow has even more tricks up its sleeve. Channels! This feature allows you to share information with Rainbow users whether they are in your Company or not. Let's look at this feature in more detail...
The above plan will help you track your progress.
How to Browse Channels ?
Emily wants to see if any news feed related to her Company exist and goes to the Channel tab.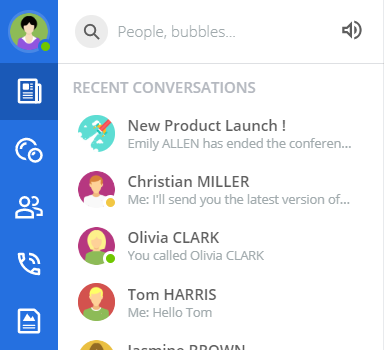 Discover news feeds in the Channels tab.
Discover new Channels :
If you are not looking for anything specific, you can use the Channels library to receive suggestions...
Go to the "

Channel" tab which allows you to consort all the information shared on the Channels you are following.
To discover new Channels follow the steps below:
By clicking on this button, Emily will have access to the Rainbow Channels library.

Click on the "Discover new Channel" button to open the library.

The Channel she's looking for is about her Company "Claystore". So she's going to navigate to the Business category.

Channels are classified by categories. You can also view the most popular or recent Channels.

Perfect! She was right. There is a channel called "Claystore Enterprise News."

Opening a category allows you to filter the results by area of interest! Click on a Channel to display its contents.

She sees that several posts have been published by Christian MILLER.

A Channel contains posts that can integrate text, images, files, videos etc.

Now that Emily has subscribed to this Channel, she can see the images shared by Christian MILLER in his Posts.

Emily finds the content of this channel interesting and decides to subscribe to it.

Click on the "Follow" button to Subscribe to the Channel and view images or be notified of new posts.
When creating a Channel, the Owner can choose to restrict access to certain people. The Channel library or search bar allows you to access public channels or private channels to which you have been invited. If you are invited, you will also receive the notification in your Rainbow Notification Center.
---
Search for a specific Channel :
If you know the name of a Channel you can also access it directly from the search bar.
Indicate the

title

of a

Channel

and choose the appropriate filter.

In the results, click on a

Channel

to open it and display the associated

news feed

.
Emily is looking for news feeds related to her Company "Claystore".
It appears that one Rainbow user has indeed created a Channel to share information about Claystore. Emily can access that channel to view the content.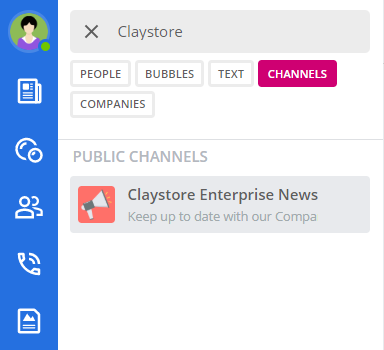 Select the "Channels" filter to find a public news feed in Rainbow.
How to Stay Tuned to New Publications ?
In addition to displaying images, subscribing to a channel allows you to display its content directly on your home page. Posts from all the Channels you folow are displayed chronologically.
You can also enter a particular Channel by clicking on the quick action buttons in the right tab of your screen.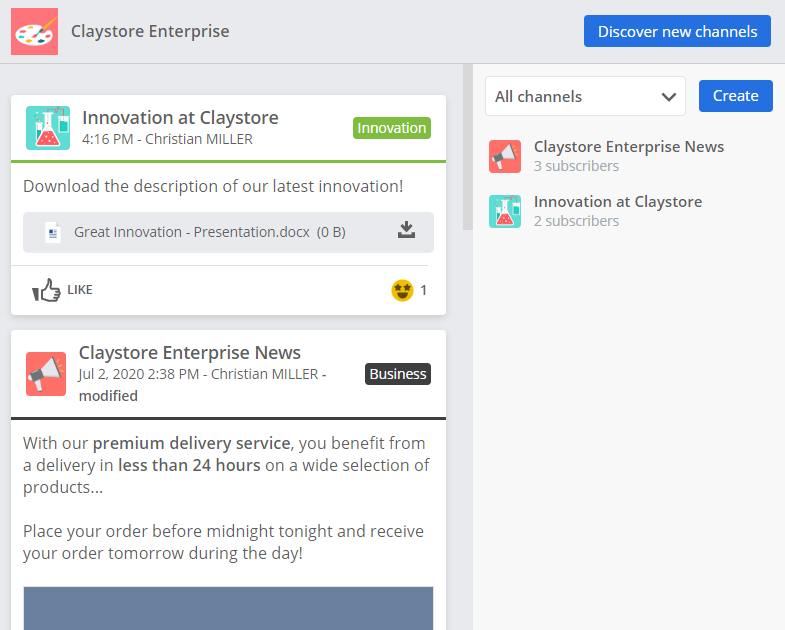 Messages from all the Channels Emily subscribes to are displayed on her home page in the order in which they are posted. This makes it easy for her to see the latest posts for her Channels.
Emily subscribes to two Channels: "Claystore Enterprise News" and "Innovation at Claystore". She can view the specific content of one of these Channels by clicking on the shortcuts on the right side of her screen.
Your homepage showcases the content of all the Channels you follow.
Key Takeaways :
Channels allow quick and easy information sharing to Rainbow users.
You can subscribe to Channels to follow the content.
The audience of a Channel can be defined by the Owner. This allows you to tailor the content for each user group you wish to target.