Good to see you again! Now that your account has been created, we're going to go over two basic notions of Rainbow: Instant Messages and Contacts. So let us show you how to send messages or files to other users, and then how (and why) you want to grow your network.
The above plan will help you track your progress.
How to Send Messages or Files ?
Emily wishes to converse with her colleague Olivia and look for her name in the search bar.
Perfect! Olivia CLARK is well referenced in Rainbow.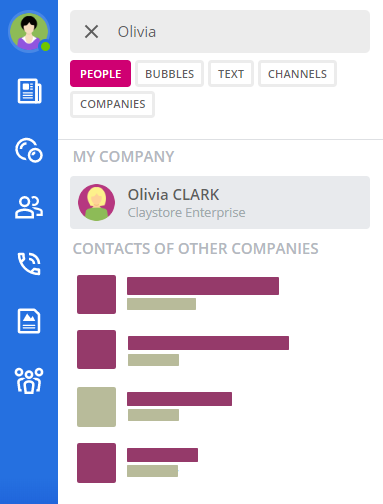 Open a new Conversation by searching for your recipient with the search bar.
Open a new Conversation :
For starters, you're going to need to start a new Conversation...
Find your recipient by typing

his or her

name in the search bar.
In the results, click on the name of the person with whom you wish to converse.
Because Rainbow is an open world, you can find users who are members of the same Rainbow Company (your colleagues) or users from other Companies. *Perfect for chatting with your customers or suppliers.
If your search is unsuccessful, your contact is not visible on Rainbow or does not yet have an account. Find out how to proceed !
---
Discuss in this conversation :
Perfect! Now that you have an open Conversation, let's find out how to share content with your recipient together.
Emily can send messages from here. Olivia will be notified for each new sending.

Enter your messages to the text bar, then send it pressing "Enter".

Emily can send GIF to Olivia by searching the online library.

Feel free to send a "GIF" to make your Conversation more fun.

Emily can add Emoji to her messages for Olivia.

A wide choice of "Emoji" is also available. Take this opportunity to add it to your messages!

Emily can also send files through this conversation. Olivia, on the other hand, will be able to download them.

Send photos, files, YouTube videos or your location in just a few clicks.

By clicking on this icon, Emily can record a voice message. Olivia can listen to that message directly into the conversation.

No time to write? Send an audio message using your microphone.
---
Manage the recent Conversations :
Of course you may have many Conversations at the same time. Now let's see how to switch from one to the other.
Open as many Conversations as you need to, as you just learned. All these Conversations appear in the tab on the left side of your screen.
Click on a Conversation to reopen it and resume the discussion. The active Conversation has a blue background in the list.
Close a Conversation by clicking on the cross that appears when you move over it.
Closing a Conversation is just hiding it. Messages will be kept by your recipient and you can always reopen it thanks to the search bar.
Emily is currently writing to Olivia. So this is the active Conversation presented with a blue background.
Emily has already spoken to Tom HARRIS and that conversation is still available. She can click on it to reopen it at any time.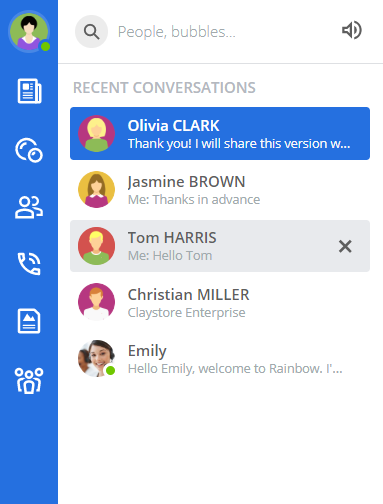 Your recent Conversations are available on the left tab of your screen.
How to Invite Someone to Join my Network ?
Invite a contact from a conversation :
Now that you have mastered the Conversation system, let's see how to enrich your communication. Adding contacts allows you to access their live status and start a Web Call.
Emily can get more information about Olivia by clicking this icon.

From a Conversation, click on the icon at the top right of the screen to display the more info.

With this button, Emily can invite Olivia to join her Rainbow network.

Click on the "Invite" button to send an invitation to your interlocutor.

Emily can make a Web Call to Olivia since she's part of her Rainbow network.

Once Olivia agrees to be part of Emily's network, she'll be able to see her presence.

Once the invitation has been accepted, you will be able to view the Presence of your interlocutor or start a Web Call.
Please note that these behaviors may be different between users within the same Rainbow Company (colleagues). Contact invitations are accepted automatically, and making a Web Call is allow without Contact invitation.
---
This time, Emily wants to open a conversation with Tom MILLER.
Tom Miller doesn't seem to be referenced in Rainbow. Emily is going to invite him using his email from the "Contact" tab.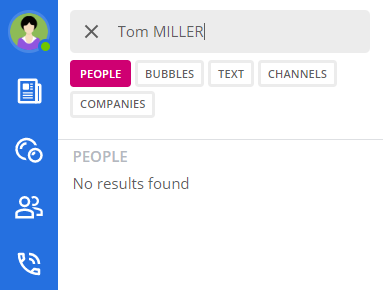 Some people do not yet have a Rainbow account or are not accessible via the search bar.
Invite a person you can't find in the search bar :
If you cannot open a Conversation with a person, you can use their email address to send them an invitation.
Check if the person is accessible via the search bar. If not, you will get the message "No result found".
Go to the "Contact" tab and make sure you know his or her email address and follow the steps below:
In this space, Emily finds all these Rainbow contacts. By the way, this is Olivia, who Emily invited here a few moments ago.

By clicking on this button, Emily will be able to invite Tom MILLER using his email address.

This space allows you to view all your contacts and invite new ones. Click on the "Invite" button to add people.

Emily is preparing the invitation using Tom's email: miller.tom@claystore-enterprise.com

Specify the recipient's e-mail address and confirm by pressing "Enter". Click on the "Next" button to continue.

To make her invitation even more attractive, Emily writes a personalized message to Tom.

You can add a customized message before sending the invitation. Click on the "Invite" button to validate.

Perfect! The invitation has been sent and Tom MILLER will receive an email allowing him to join Rainbow in a few clicks.

Let's do it! The recipient will receive an email with your message.

Emily can track her invitations from the "Contact" tab. She'll be notified as soon as Tom accepts the invitation.

A new line has just appeared in your contact space allowing you to follow this invitation.
Key Takeaways :
You can send messages or files to all Rainbow users even if they are not linked to your Company.
Communication is facilitated with your colleagues and allows you to call each other even without being in your contact network.
Some users are not visible and need to be invited via their email address before you can communicate with them.