Schedule a Meeting is allowed for Bubble
Organizers
or
Owners
with a
Business
or
Enterprise
license. Moreover, this feature requires synchronization between the Rainbow Company and an
Office365 organization
.
Learn more
Would you like to find a time slot for your next meeting that would suit the maximum number of your Bubble's Members? Use the Meeting Scheduler to find the most appropriate time slot based on your Members' schedule.
Note: Your Bubble must be accessible through a direct link to use the Meeting Scheduler. Learn more
---
Schedule a Meeting
You can search for time slots for your next meeting in a Bubble. Rainbow will propose time slots based on the Bubble's Member calendar.
You can specify whether a Member's presence is mandatory or optional in order to increase the number of potential time slots. Once the time slot is determined, Rainbow send an Outlook invitation to those involved.
Go to the Bubble where you want to schedule a meeting.

Click on the button

"Other actions" in the right side of the top banner.
In the menu, choose "

Schedule a meeting" to open the planning page.
Choose a name and a duration for this meeting, then select when you want to schedule it.
Select from among the Members of the Bubble who should attend this meeting. You can specify whether a member's presence is mandatory (required) or optional.
Rainbow will then suggest time slots based on the criteria you specified in the previous steps. The proposal list specifies the number of Members available versus the number of Members desired.
Choose a slot from the list to access more details about the available people. You can view the available and unavailable users in that time slot.
Click on the button "Invite" to send invitations by email or "Back" to choose another time slot.
Note: You can only access the calendar information of your colleagues. Their email address in Office365 and their Rainbow login must also match. Members who do not meet these criteria will not be considered for the time slot search but will still receive the invitation by email.
Tips: If you indicate some Members as "required" Rainbow will only offer you slots where those people are available.
---
Manage the Meeting in Outlook
You can follow the invitation from Outlook. An event is created in your calendar and an invitation is created and sent to the relevant people. You can edit or cancel this meeting like any event in the Outlook Calendar.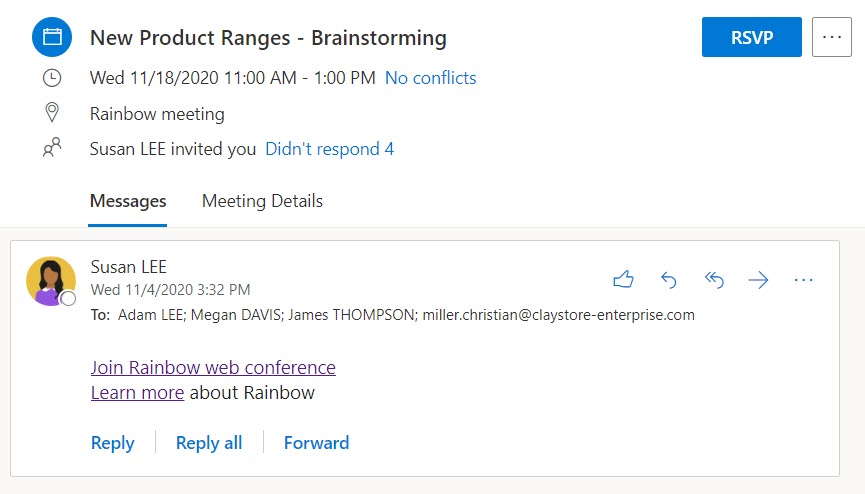 The name of the meeting in Outlook corresponds to the name of your Bubble (e.g New Product Ranges) associated with your meeting name (e.g Brainstorming).
The invited people and time slot are consistent with the choices made in Rainbow.
The event text includes a direct link to the Bubble to join the Web Conference in one click.
Next step:
Now that your next meeting is
scheduled
, learn how to launch a
Web Conference
from your Bubble.
Learn more