Use Rainbow as a CCD agent is available for users connected to an OmniPCX Enterprise equipment.
Rainbow is introducing the support for OXE CCD agent. Rainbow CCD Agent embeds a new specific GUI component in the standard Rainbow clients allowing Logon/logoff of the agent, CCD group number and agent states display and CCD actions wrap-up and withdraw.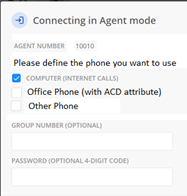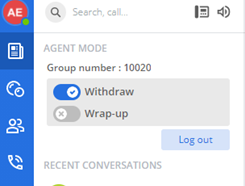 A CCD user agent can choose to manage the media in VoIP on his PC or MAC or he can remotely controls an OXE desk Phone or he can decide to use another phone called by a PSTN or private number. The main benefit is the easy deployment of Rainbow without any need for SBC or VPN.
---
Prerequisite
OmniPCX Enterprise PBX requires:
to run with SW version OmniPCX Enterprise from R12.4 MD5 (m5.204.81) delivered July 2021
to be granted with REX licenses: 1 REX per active agent in Computer or Other Phone mode
to be connected to Rainbow for the Telephony Services
to be connected to a Rainbow WebRTC gateway for CCD agent running in Computer mode.
Due to the high level of skill required to manage a CCD on OXE, the solution can only be deployed by ALE OXE CCD certified partners. Standard limits apply, webRTC gateway manages up to 400 simultaneous calls.
---
How telephony mode (computer, deskphone, other phone) is Selected?
The CCD agent selects in Rainbow GUI specific for CCD logOn how to media is managed: in computer mode, in desktop mode or in other phone mode. The selected mode cannot be changed during the CCD session. When Computer mode or Other Phone mode is selected, Rainbow automatically allocates a REX taken from a pool. THIS IS NOT DONE BY CONFIGURING A MULTISET.
Note: The CCD agent logon in computer mode can only be performed from the Rainbow application. It cannot be performed remotely via an ALE administration application (CCS, OmniPCX Enterprise WBM, OmniVista 8770).
---
Configuration
A Rainbow CCD Agent user must be associated ONLY with an OXE CCD Agent Number.
He must not be associated to any multiset or physical phone.
He must be granted with a Rainbow Enterprise license.
OXE CCD must be configured with Agent numbers.
OXE ALE deskPhone and REX must have the ProACD setting and must not be associated to any Rainbow user, nor be part of any Multiset.
These REX numbers collected by Rainbow to create a pool of REX for CCD Agent must have their Firstname set to "RAINBOW" in the OXE configuration.
Configuration guide for CCD Agent on Rainbow application on OmniPCX Enterprise TC2915