Note: Yealink_Dect_W60B_Configuration_Guide has been updated
The Rainbow Hub solution comes with ALE deskphones, that are fully integrated into the solution and guarantee a consistent and rich user experience leveraging Rainbow Hub multi-device, multi-media and full collaborative experience.
The Generic SIP device feature allows connecting complementary devices, enriching the Rainbow Hub ecosystem with specific devices such as Fax/ATA, Audio Doorphones, and DECT single cell basestations and handsets.
There is no automated provisioning for these devices, they must consequently be configured manually. The set of necessary parameters is as follows:
Connection credentials and domain are retrieved on rainbow Web Admin interface:
SIP Domain, SIP UserName and password
Rainbow server certificate chain that allows clients to authenticate Rainbow servers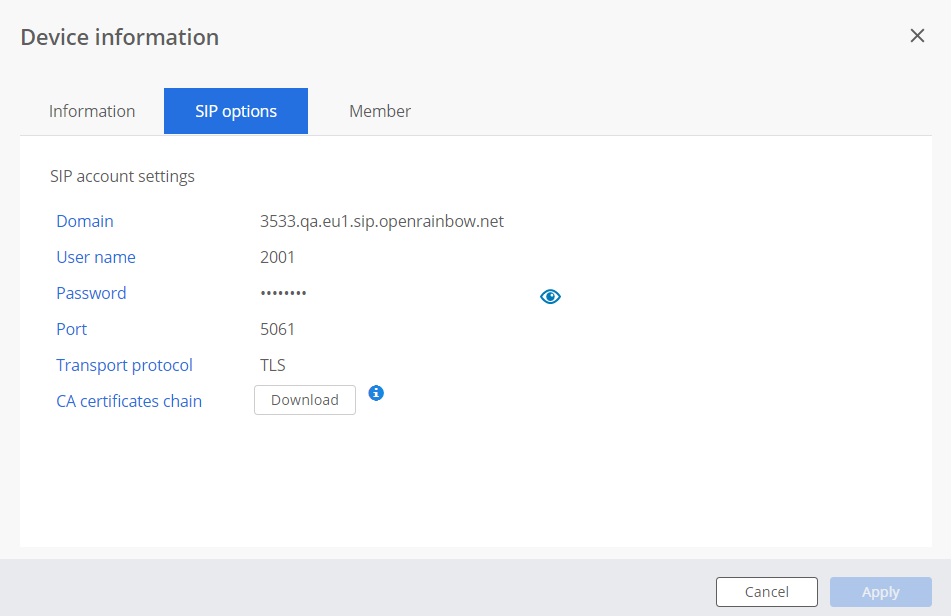 Basic technical configuration on third party devices to connect to Rainbow:
Encryption must be enabled: SIP-TLS (TLS 1.2 minimum) for signaling and SRTP for media
Codec: G711

Important note on 3d parties SIP deskphones :
The purpose of this openness is not to allow the deployment of 3d party SIP deskphone. ALE is not able to provide support for such configurations, as the users telephony experience cannot be brought at the level of the one achieved with ALE deskphones.
Typical restrictions being:
CLI issues might apply (CLI display on the phone)
No unified presence, telephony status of these sets is not reflected on Rainbow clients
No Call control from Rainbow applications :

No Call control from Rainbow applications: It is not possible to make of calls from the computer with audio on phone. So, only computer mode is available

Conflict of local services of the phone with centrally managed multi-device services (DND, Forward, BLF keys status not consistently managed between rainbow clients and 3d party phones)
SIP interoperability issues might arise with Rainbow and SIP providers ecosystems, due to the sometimes unclear nature of the protocol
Supported devices
There is currently no specific program for officializing interoperability of such devices with Rainbow Hub, however ALE provides reference guides with devices which have been successfully implemented in known deployments. Partners identifying need for additional complementary devices can perform initial trials, and reach ALE to share on interop results.
A configuration guide is available for following devices:
Audiocodes ATA MP202 (document updated on May 30)
Yealink DECT W60B
ALE 8328 SIP-DECT