Requirements:
OXO Connect supports different deployments of the Rainbow WebRTC Gateway.
When the PBX is a full IP version OXO Connect Evolution (OCE), the WebRTC Gateway is already embedded with the call server (configuration is described in OXO Connect documentation).
When the OXO Connect (OCO) is an hybrid PBX based on PowerCPU-EE, an external WebRTC Gateway must be deployed. This can a be:
a Virtual Machine
a standalone PC (Read the ISO dedicated installation guide for more details)
an OCE WebRTC Front End (OCE FE) which is an OCE hardware running only the WebRTC Gateway component.
Details about the Rainbow offer connected to a OmniPCX Enterprise or OXO Connect/OXO Connect Evolution can be found in following Technical Business Engine presentation.
For deployment on OCE WebRTC Front End the OXO Connect PBX needs:
to run at least R4.0/507.002 to use an OCE Front End as WebRTC gateway
to be granted with an AnyDevice Terminal per targeted Rainbow user
to be connected to Rainbow for the Telephony Services
to have VoIP Channels for the SIP trunk
Note: It is mandatory that the OCO and OCE FE use the same version (no mix between R4.x and R5.x)
Configuration:
For a detailed configuration of OXO Connect solution or OCE Front End Please consult TC2479.
The Rainbow administration can help to quickly configure the OXO Connect parameters to work with a new WebRTC gateway.
The only needed information are:
the type of deployment used for the WebRTC (Embedded in OCE, external on a PC or VM, external in an OCE FE)
the IP address of the gateway
the number of channels.
The OXO Connect must be connected to Rainbow. Its hardware IDs are displayed in the Settings tab of the Equipement Information menu. It is also here where you perform the remote configure of OXO Connect connectivity to the WebRTC.
The Rainbow administrator can remotely configure the OXO Connect connectivity to its WebRTC gateway by selecting the type of deployment and specifying the IP address of the WebRTC gateway if external and the number of concurrent calls that can be accepted.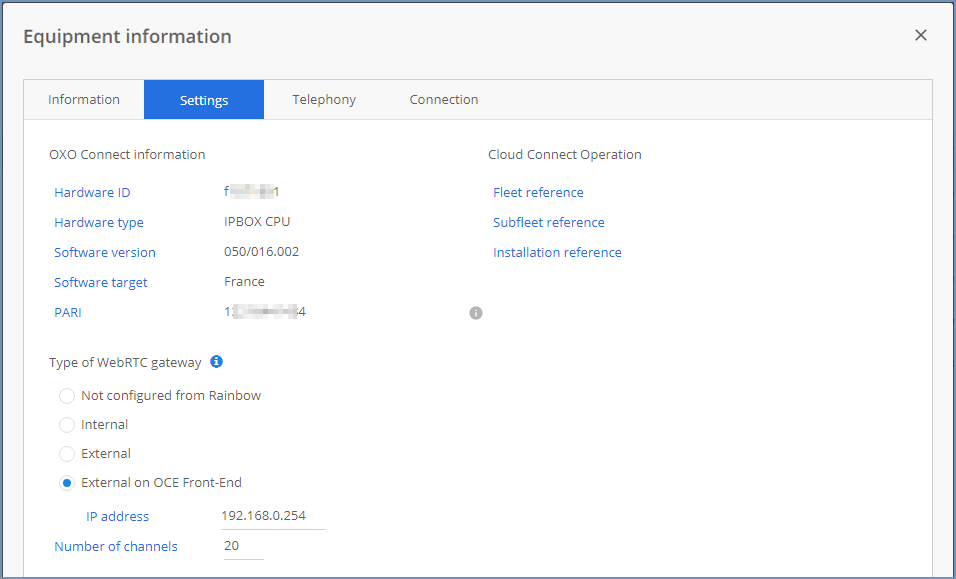 Once the OXO Connect has been configured remotely and a WebRTC gateway is launched and configured, the OXO Connect will automatically connect to it.