This feature is available worldwide as of October 19 if the WebRTC gateway meets the following conditions:
the WebRTC gateway works with version 1.73.x or higher.
is installed on a VM or a standalone PC.
a display must be connected to the standalone PC(*).
is installed in one of the 35 countries listed at the end of this article due to export control regulations.
* The current status is that some standalone PCs do not boot after a reboot without a connected display. Therefore, these WebRTC gateways are excluded from the remote update.
Note:
For all other countries only the availability of a new version will be displayed.
You can still upgrade your WebRTC gateway by downloading the Software from
MyPortal
.
How to perform this upgrade in this case is described in the article
WebRTC gateway upgrade guide
.
---
This article describes the steps to perform a remote upgrade of a WebRTC gateway.
How it works:
Note: Currently the process to activate the remote upgrade option on a WebRTC gateway is a manual process therefore it could be that you may not see the option on all your WebRTC gateways at the same time. The reason for this may be the WebRTC gateway:
- has been installed with a lower version after we have flagged the WebRTC gateways for upgrade
- or it's a standalone PC without a connected display.
We are working on a solution to automate this but in the meantime we are doing our best to manually flag the WebRTC gateway with the option to update on a regular basis.
New Version availability display
When a new version is officially released then the Rainbow administrator (BP Operation Role) will see in the PBX list view that a new version is available for the WebRTC gateway.

Start the software upload to the WebRTC gateway
Go to the Equipement information / Connection tab to see the remote upgrade option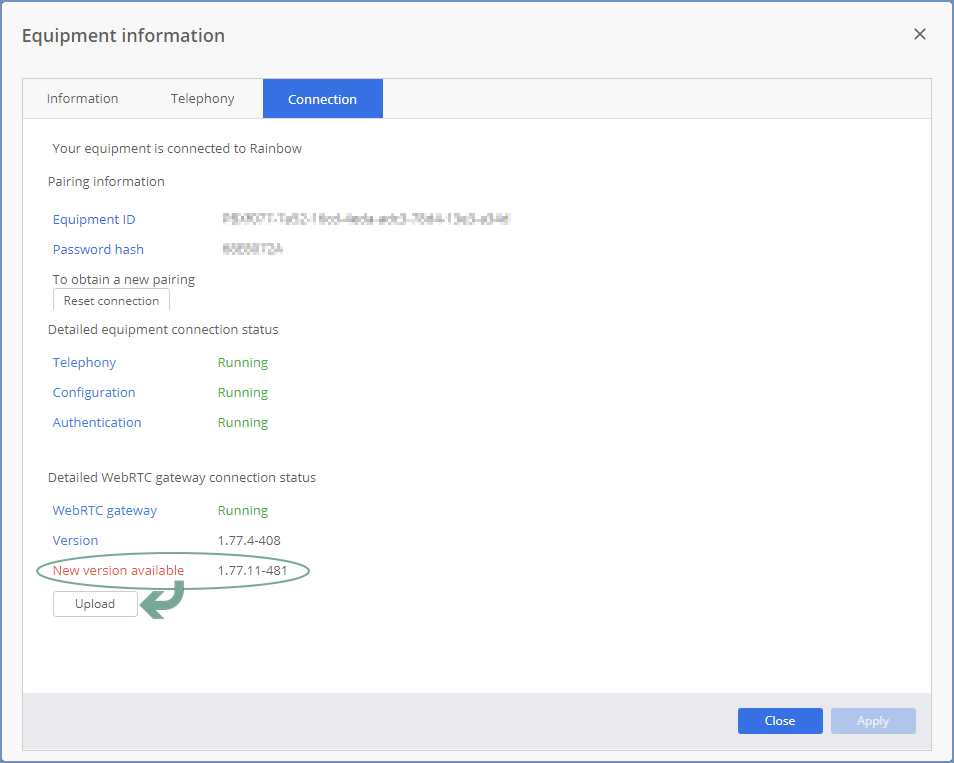 By clicking on the Upload button you will start the upload of the WebRTC gateway new version into the Upgrade folder of your WebRTC gateway. Because The WebRTC Gateway Software is subject to export control regulations you'll have to accept the Specific Terms and Conditions before the upload can start.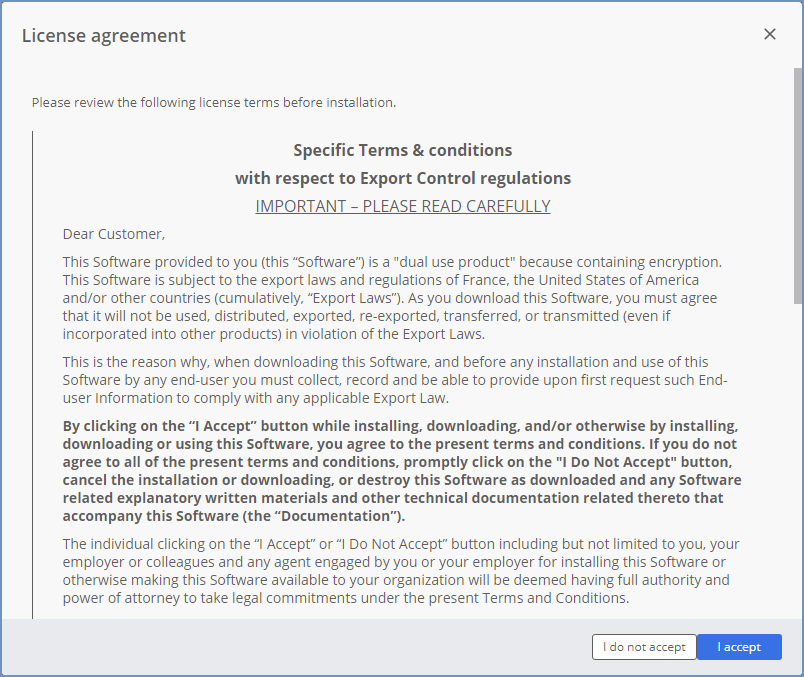 Once accepted the upload automatically starts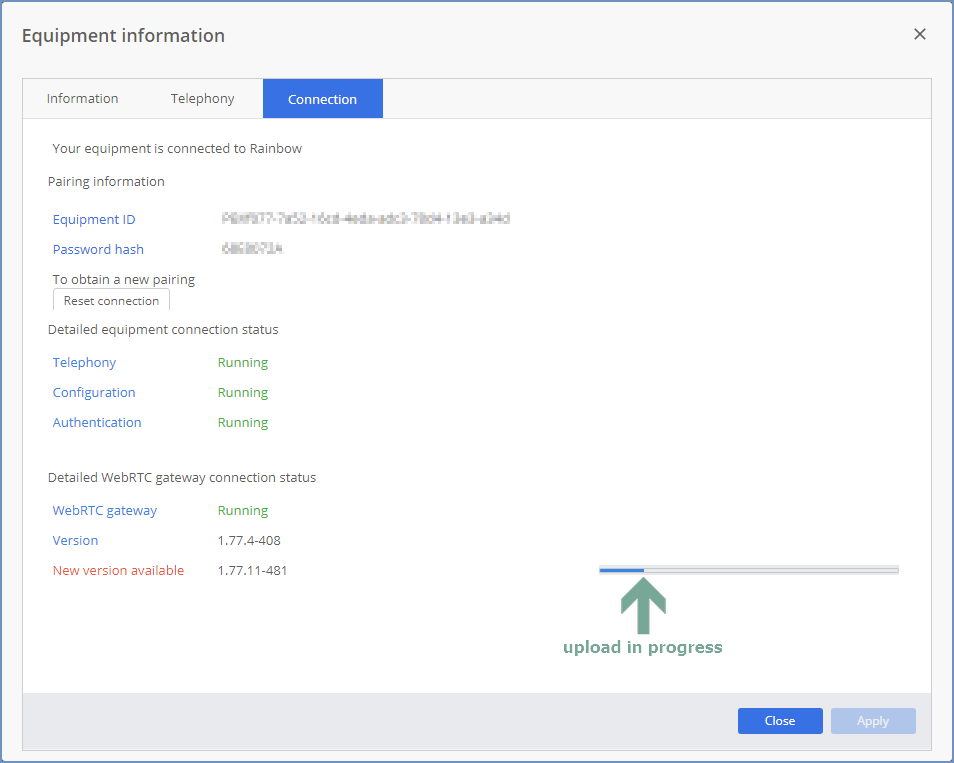 Launch the upgrade
When the transfer is done you can start the upgrade by clicking on the upgrade button.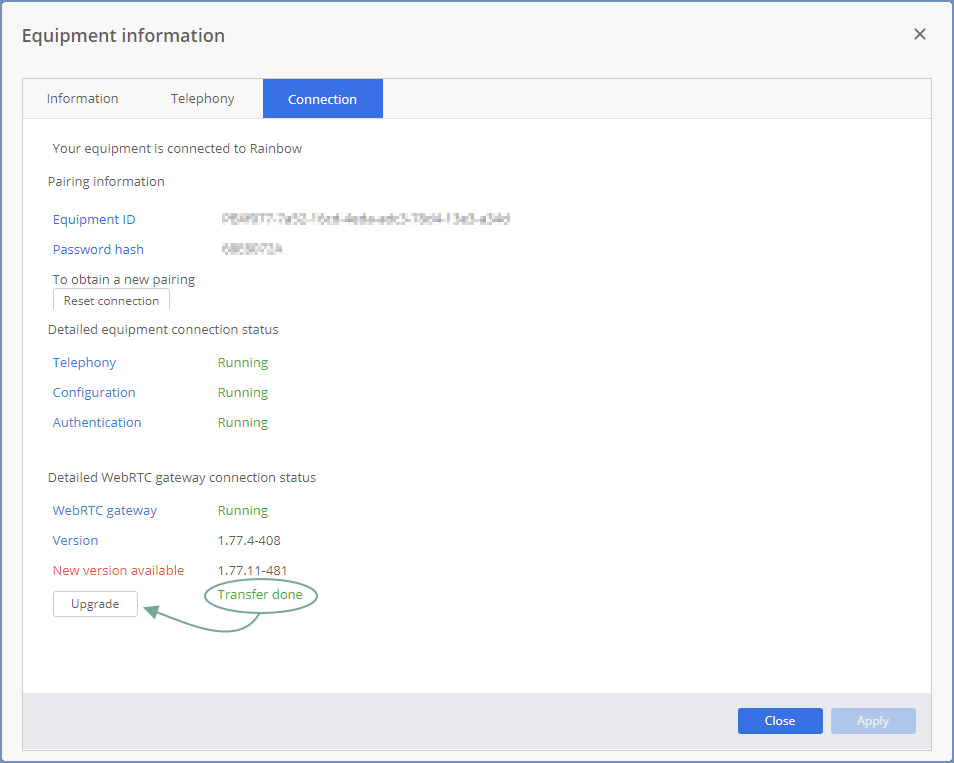 And confirm that you'll perform the upgrade now. This will trigger the same action as the command mpupgrade --now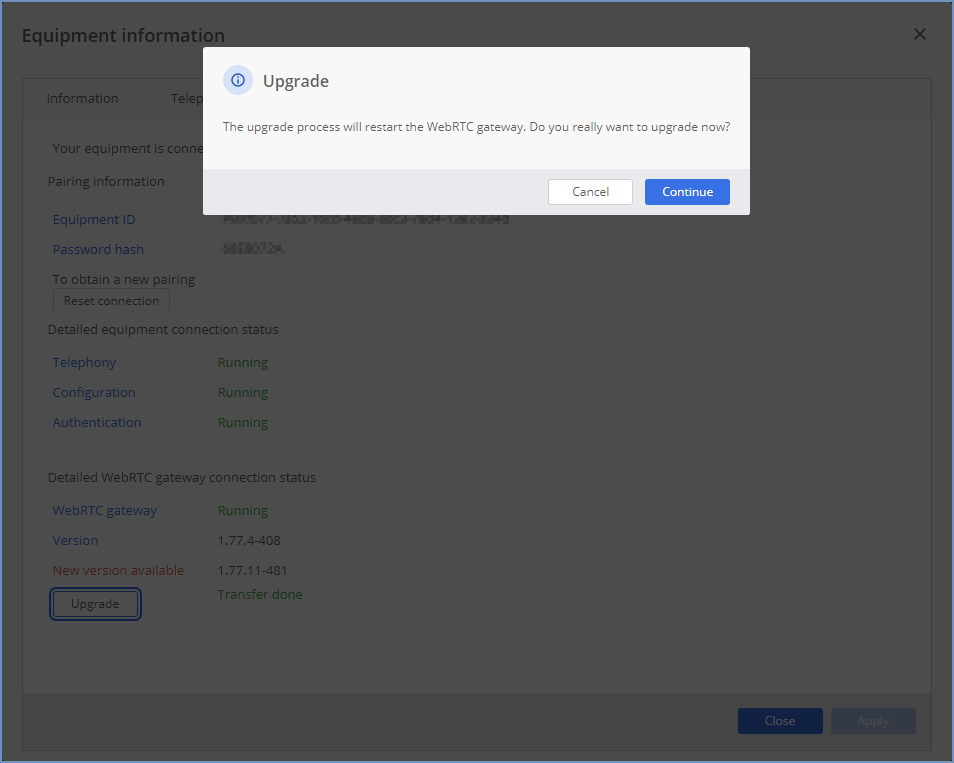 The upgrade process starts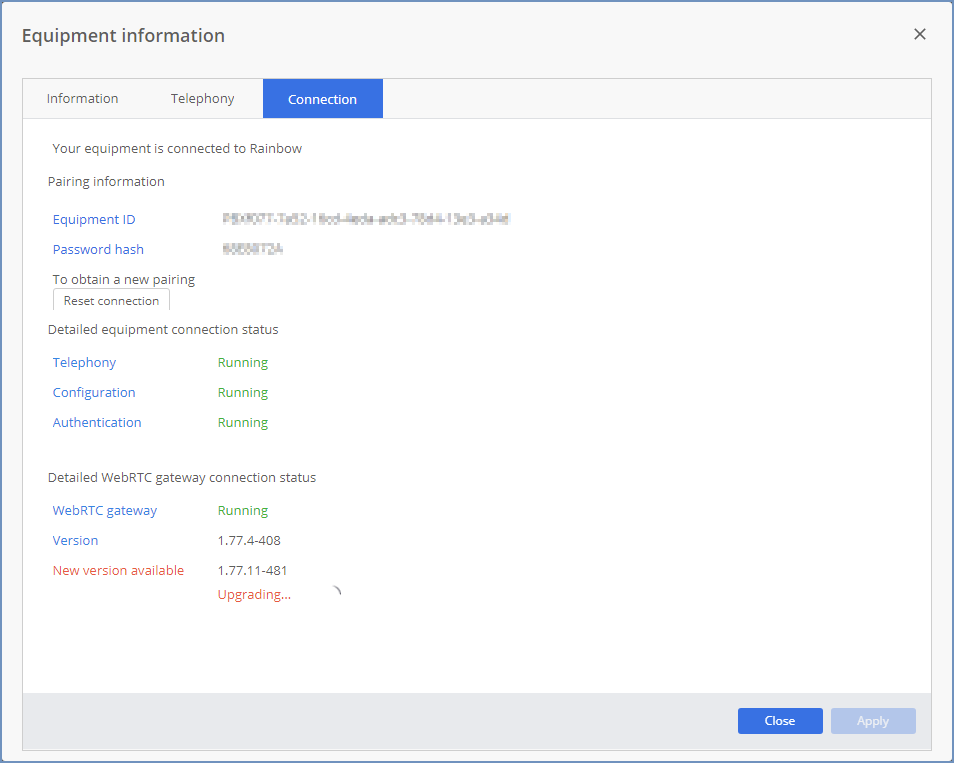 Upgrade in progress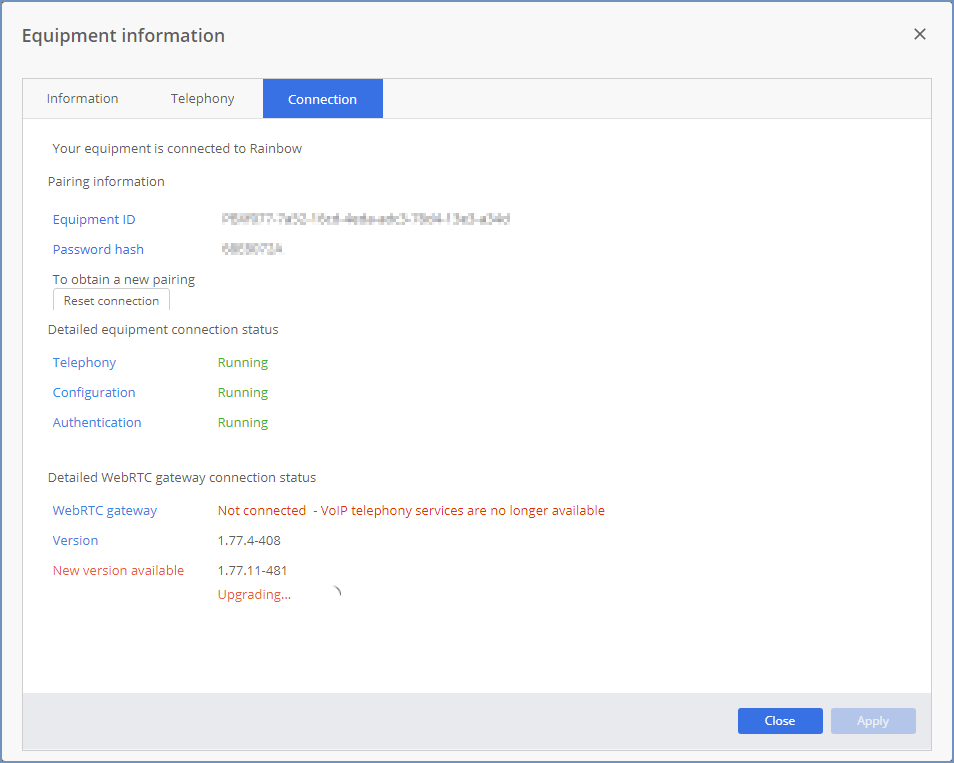 Reboot of the WebRTC gateway
When the WebRTC gateway has rebooted and is again connected to Rainbow you'll see the WebRTC gateway status as "Running" with the latest version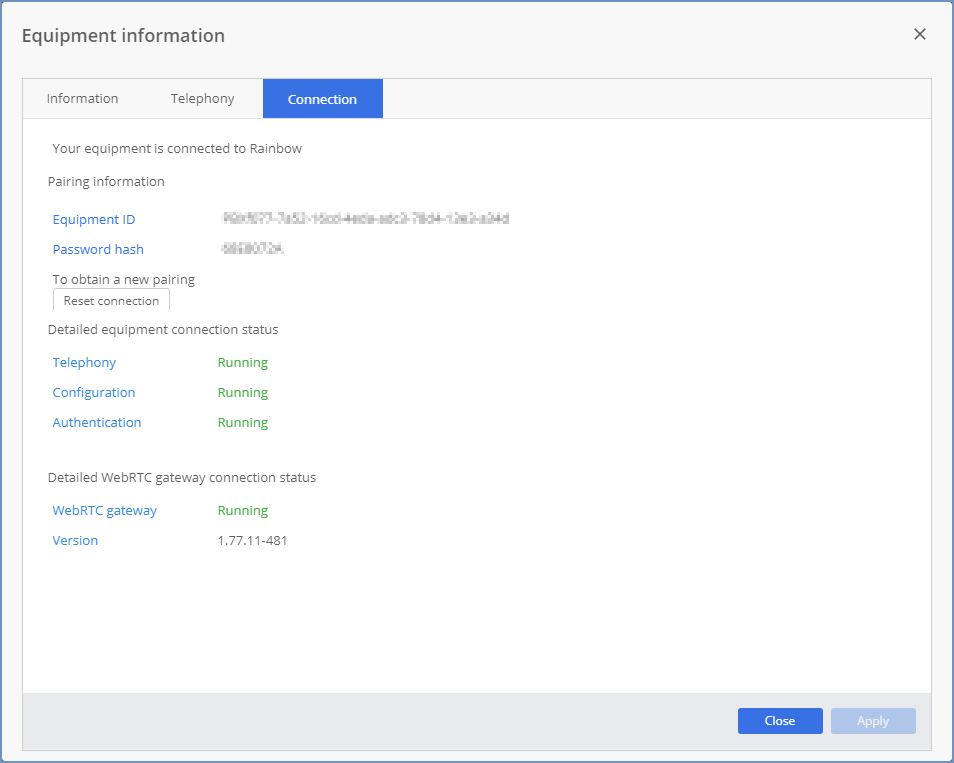 Countries where this feature is available
All European Union countries (27) will have access to this feature + 8 other countries as in the table below:
European Union
Austria
Estonia
Italy
Portugal
Belgium
Finland
Latvia
Romania
Bulgaria
France
Lithuania
Slovakia
Croatia
Germany
Luxembourg
Slovenia
Cyprus
Greece
Malta
Spain
Czech Republic
Hungary
Netherlands
Sweden
Denmark
Ireland
Poland
Other Countries
UK
Canada
Australia
Japan
Switzerland
USA
New Zeland
Norway