This article allows company administrators to manage company information, such as:
A logo and banner

A company email address and website


A postal address

A company contact

Activity and size

Visibility in Rainbow
Note: The page where company information is managed also displays the region where your Rainbow data are stored and gives access the data processing agreement.
The company information is used for example to build the company public page, if the company visibility is managed as public.

Example of company public page: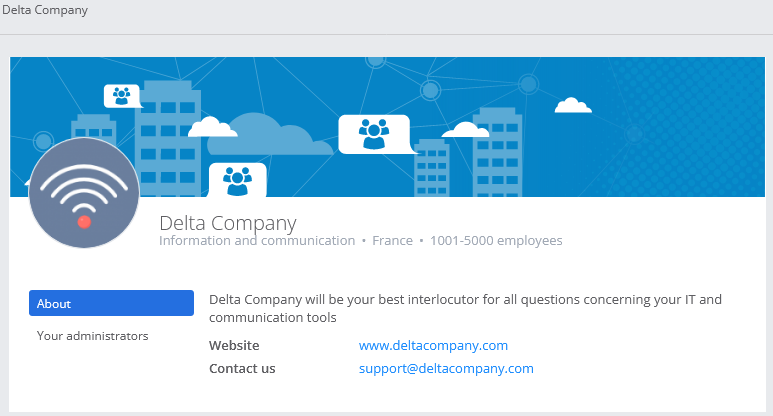 Configuration of company visibility in Rainbow is described in a dedicated article: see: Manage company visibility.
---
To manage company information:
From the Rainbow administration interface, click on the Manage your company

icon

at the bottom of the left panel.
In the left panel, click on My company, then

Information.
If your company is linked to a Rainbow reseller, click on the Information tab in the right panel.
If needed, modify the Company name.
Enter an Email address for your company.
Enter the URL or the company Website (for example: www.deltacompany.com).
Complete the company postal address (Street, City and Postal code).
Select the Country of your company.
Select the Time zone for your company (for example, it will apply to welcome services and opening hours calendar when configured).
In the Company logo & banner panel, move your mouse over the corresponding picture defined by default and click on Edit to upload the customized logo or banner.
In the COMPANY CONTACT field, enter the first letters of the name of the target company member and select your choice among available entries.


Note

: After entry, you can start a conversation with this member via the

icon or delete this member via the

icon.

If needed, enter a Slogan and Company description.
In the Size overview, select the range of the number of company members.
Select the Economic activity of your company.
Click on the validate icon which appears, after any change, at the top right of the page.