When you become member of Rainbow, you are invited by email to log in and finalize your Rainbow account.
Open your email application
Open the email sent by Rainbow Team
Click on Join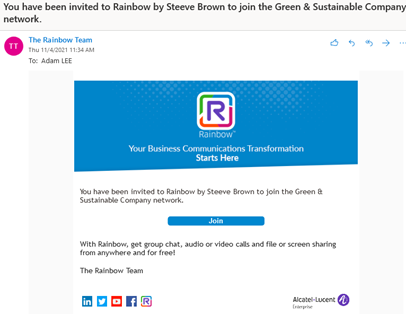 ---
A login window opens in your web browser. Follow the instructions on screen to finalize your Rainbow Account:
Enter your Rainbow password and validate the terms of service and privacy policy.

Enter your identity and country.

Select the avatar to associate to your Rainbow profile.

Learn about the use of cookies and notifications.

If suggested by Rainbow, select people to add to your company, or do it later.

As proposed by Rainbow, you can declare your Microsoft Office 365 or Google agenda to share your calendar with other users, or do it later.
You are logged in to your Rainbow application. You can now access the company administration panel.