From the company administration panel, click on Members and the Members tab in the right panel.
This view displays the company member list. By default, you are the only one member declared in the company.
---
Create a new Company Member
Click on Create at the top right of the view
Enter the company member email address for login
Enter his/her password for login
Enter his/her last name and first name
Click on Create
The other parameters are optional for creation.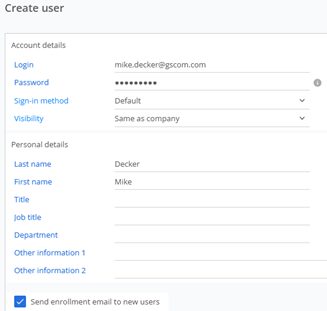 The new company member is added to the company member list. Each new company member is assigned a default user profile that can be customized according to your needs.
---
Modify the Main Settings of a User Profile



Click on the target company member.




Click on the Information tab and configure personal information (first and last names, job title, department), user visibility in Rainbow and tags for quick search.




Click on the Services tab and assign a user license to the company member.




Click on the Security tab and enter the company member password.
After completing member settings, click on Apply to validate changes. You can now associate telephone services to the company members.
PREVIOUS| |NEXT STEP